By Sarah Elizabeth Burns Burrell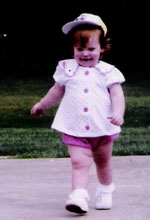 My journey started on Dec. 5, 1993. I was born a healthy red-headed girl. When I was 12 months old, my family started to think that I couldn't hear. They would say my name or clap and I did not turn around. When I was 17 months old I went through Young Sarah Burrell walkingtesting and that is when my parents found out I had a hearing loss. The doctors thought I was born with the loss. My mom said that it was a very sad day for her and my dad. My diagnosis was a severe-to-profound loss in both ears. A few of the professionals wanted me to learn sign language only. My parents wanted me to continue to use listening and spoken language because I was a very chatty baby, babbling all the time. They were very strong about wanting me to fit in with the "normal" kids and wanting me to communicate with everyone. My audiologist suggested some very good professionals because my parents wanted me to communicate with listening and spoken language and improve as I got older.
I was fitted with two digital hearing aids when I was 18 months old and started intense speech treatment. My speech-language pathologist became my second mom. We did fun therapy like going to the park, planting flowers and eating at McDonalds. I always wanted to put my "ears" on when I woke up and always wore my hearing aids unless I had a sore or an ear infection. I got cool color molds of my choice for my hearing aids about every six months. My vocabulary improved and grew as I entered private preschool. My speech-language pathologist would engage different types of speech learning exercises with me. She stopped covering her mouth and that's when I learned how to lipread, and I've read lips ever since. When people ask me how I can understand what other people were saying, I just tell them "I lipread." I've had a number of people ask me to teach them how to read lips but it's really a natural thing for me. When talking to another person, some people look at the eyes of the person who is speaking I look at the mouth, which makes lip reading natural for me.
My dad died of cancer when I was 4 years old. He used to read, play and sing to me; he was my best friend. I soon took a leap of faith and began kindergarten in a public school. I had an awesome teacher, with whom I am still friends today. In fourth grade we moved to Fayetteville, Ark., and I continued to go to public school, making great friends and playing softball and basketball.
When I was 14 years old, my audiologist started giving me and my mom information about cochlear implants. My mom said that it was my decision. I was really into the idea and saw only good things from others who had one, and soon enough, in June 2007, I got a cochlear implant in my right ear.Surgery was successful and I healed before I knew it. When my implant was "turned on" for the first time, I was confused. It sounded like beeps and clicks; I thought I was in a robotic world.This was when I told my mom, "Why did I get this implant?"
My brain had to learn and recognize sounds all over again. After much therapy, I LOVED the cochlear implant. I could hear my dog's long nails walking across the wood floor for the first time and I heard birds chirping. I asked my mom about all kinds of sounds like the dishwasher, coffee pot, refrigerator and washing machine. I now depend on my implant, and I advise every person out there considering one to get one. I heard sounds that I have never heard before and even hear things that I never knew existed! I still wear a digital hearing aid in my left ear but I am leaning toward getting a second implant.
Last summer I received a scholarship to attend the AG Bell Leadership Opportunities for Teens program (LOFT) in Orlando, Fla. Oh, WOW! What an experience. I met people"just like me." I made forever friends. I have never felt so accepted as much as I was while in Orlando. Sure, I'm accepted at home with my family and friends but not like there. The people I met knew exactly what I had gone through and I could easily communicate with them. I was on a week-long high; it truly was the best week of my life. Since attending LOFT, I have become my own advocate. I feel that I got to know myself better and have truly accepted my hearing loss. Since then, I now say, "being deaf isn't a disability; it's a gift." The gift of true friends, gift of newly discovered sounds and even the gift of being appreciative of what I have.
Now, I'm a junior in a public high school. I communicate with my teachers for the help I need and I'm my own advocate. I have a 3.75 grade point average. I am a skillful lip reader, even though I love talking to my friends as well, and I am involved in service learning (a credit class that concentrates on serving the community). With the help of my service learning teacher and the deaf advisor for my school district, I am starting a new organization called H.I.P. (Hearing Impaired Pals). It is an organization for kids who are deaf or hard of hearing to get to know each other, form friendships and realize that they are not alone. I am so excited for this new adventure. My hope is that when I graduate from high school and start college, another student will continue H.I.P.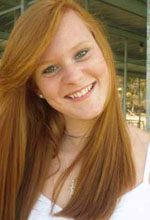 Sarah Burrell is a 17 year old with profound hearing loss in both ears.(1)My plans for the future are to go to college and continue to accept my hearing loss. I have still not decided on a college or major, but I'm leaning towards specializing in the medical field. My hobbies include playing softball, being involved with my church and hanging with my friends and family.
I want to thank God, my family, my friends, my speech-language therapist, AG Bell and LOFT for making me the independent and strong young woman that I am today.
Sarah Elizabeth Burns Burrell is 17 years old and a junior at Fayetteville High School in Fayetteville, Ark. She has a brother, Josh, and a cockapoo named Annie. Sarah's hobbies include playing softball, hanging out with friends and family, and being active with the youth at her church. She was voted to the Youth Advisory Council for Arkansas Communities Foundation, which awards grant money to community programs. Sarah loves her service learning class, which provides service to area Fayetteville schools and the community.